Get yourself registered with iMOBDEV Technologies at
GITEX, Sheikh Rasheed Hall, SR-E4, from 18-22 October, 2015 at Dubai
World Trade Centre (DWTC).
The Gulf Information Technology Exhibition or you can say GITEX; a
biggest tradeshow is all situated to celebrate its 35th anniversary this
year. GITEX Dubai is the Middle East's greatest computer and
electronics expo and going to this mega event is an essential thing for
IT experts around the world. If you require any Web and Mobile
application development services, iMOBDEV Technologies is always ready
to give wings to your desires at stand number SR-E4, GITEX Dubai 2015.
GITEX Dubai is a five-day event and occurs in each October. With its range of gatherings and conferences, GITEX Dubai 2015
attracts most important names in cloud technology, digital marketing,
mobile, Website, Telecom and different other segments as exhibitors.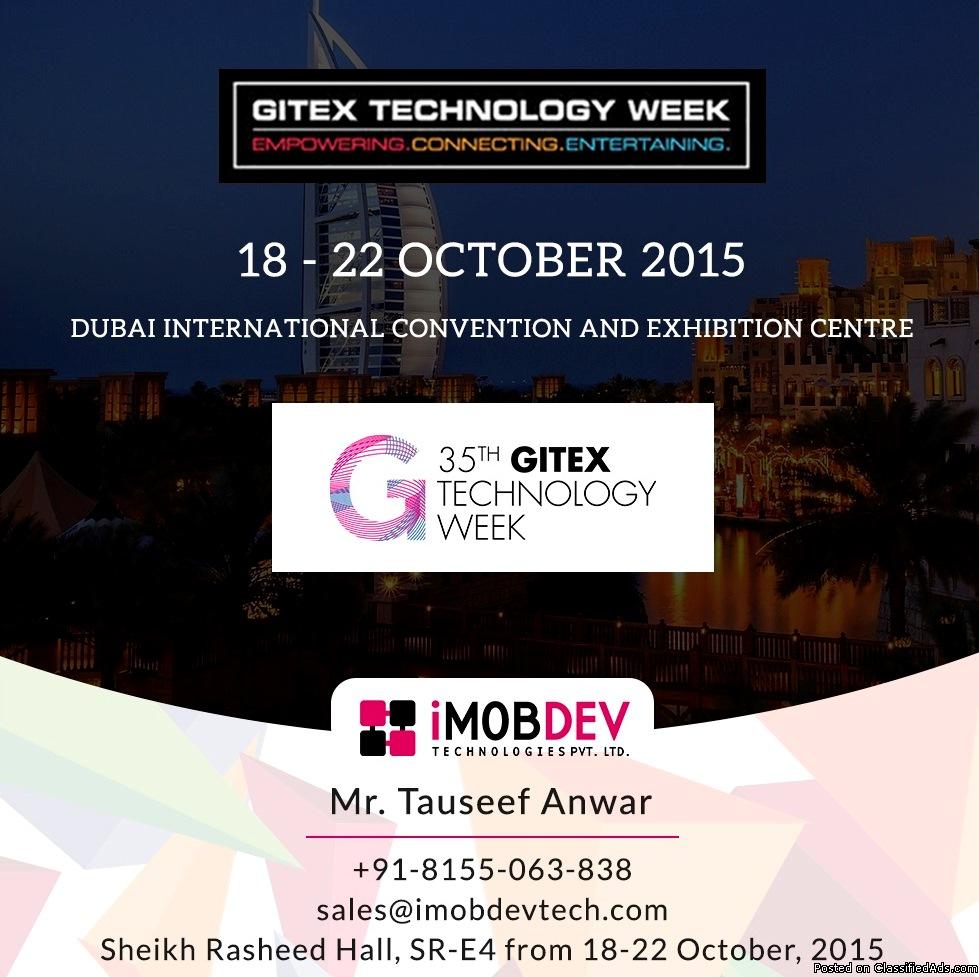 iMOBDEV Technologies is a leading Web and Mobile Application Development Service provider situated in India. From its inception, iMOBDEV has successfully delivered 400+ projects in multiple platforms and still contributing lots and lots of clients in each single corner of world. The firm has 75+ strengths on hand to please valued customers universally. The company shows its 200% growth by satisfying clients as per their stipulated terms and conditions in the IT industry.
Now in this October, again iMOBDEV Technologies is ready to showcase
its astonishing services and solutions at the mega event held by GITEX, Sheikh Rasheed Hall, SR-E4, from 18-22 October, 2015 at Dubai World Trade Centre (DWTC).
GITEX 2015 offers internet of things and technology market this time
with amazing outcome they conveys across industry verticals.
Get scheduled with us @ GITEX 2015
GITEX Dubai has succeeded to shield its position as a world's smart
destination for the field of information & Technologies. ICT
leadership Standard is all set to begin by GITEX Dubai 2015.
International companies as well as government agencies would be present
to showcase their services at GITEX. New organizations and fresh
invitees would be willing by the hottest and wonderful opportunities to
grab and involved with it.
iMOBDEV Technologies comprises today's best talents on hand to help
you achieve success in your forthcoming business. The world's bravest
talents are focused to take you to the superiority of business
invention, disruptive technologies and developing tendencies. Our firm
has ISO 9001:2008 affirmation. Our expert group of engineers' ensures
that the project of clients can finished on calendar with the affordable
budget. We are here to promise and satisfy you with cutting-edge
technology resolutions as well as prevalent client happiness.
iMOBDEV Technologies is ready to contribute its finest to rock the podium of GITEX Dubai 2015
and would like to invite clients, business accomplices and every single
interested parties to visit at the mega event. We would be delighted if
you could join us to taste the air at this exceptional event.
About iMOBDEV Technologies:
iMOBDEV Technologies - A leading Custom Web and Mobile Application Development Company
gives its cutting-edge services globally to please clients in every
single corner of the world acceptably. We delivered 400+ projects in
multiple platforms to 250+ pleased customers as well as encompass 75+
strength in mobile and Web technology. We have leading goal to be the
dominant in all that we do. Get linked with us now to preserve how we
start your victory in your journey with us.
Originally Posted: http://bit.ly/1SMen8T

Events in GITEX Dubai 2015 GITEX 2015 offers GITEX Dubai 2015